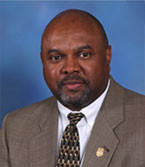 Name: Garry L. Moore
Title: Chief Deputy
Education: Master of Public Administration from Columbus State University; BAS Resources Management from Troy University; Graduate of Georgia Law Enforcement Command College (Class #26) from Columbus State University; Completed the Georgia FBI-LEEDS (Law Enforcement Executive Development Seminar), Kendrick High School.
Professional Careers: Georgia Bureau of Investigation (Retired) - 25.11 years; U.S. Air Force (Retired) 23 years combined active and reserve service.
Professional Affiliations:Board Member of Peace Officers Association of Georgia; Adjunct Criminal Justice and Public Administration Professor; Senior P.O.S.T. Instructor; Master Facilitator for the D.A.R.E. Program.