Streets Maintenance & Repair
(706) 225-4320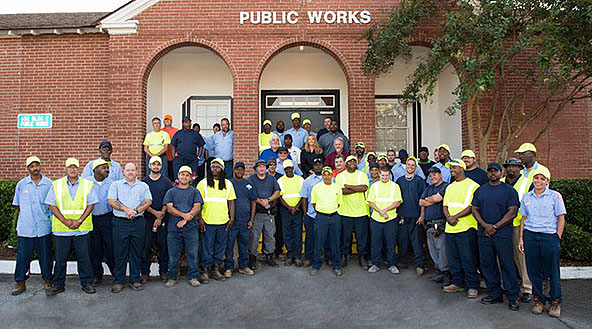 Public Works, Streets Division provides services to Columbus residents, the local government and the Department of Transportation as it relates to street/road repairs, asphalt Aprons and maintenance (which includes city streets and state routes), sidewalk repair, curb/gutter, (city owned) fence repairs and graffiti removal as well as overall support to any and all government departments as it relates to asphalt and concrete related repairs and or the need for heavy equipment.
On a weekly basis our scope of responsibility includes, but is not limited to hundreds of miles of roads both urban/rural, curb/gutters, along with a thousand miles of public sidewalks, as well as all state routes that pass-through Muscogee County. We maintain the fuel station and wash rack located on Schatulga Road that serves all City vehicles, as well as the Muscogee County School District, and the Housing Authority. Through our fuel truck we also provide fuel for the daily operations of various outlying City entities, such as the sanitary and inert landfills, Bull Creek, Oxbow Meadows golf courses, all heavy equipment, emergency vehicles and emergency generators. We also re-grade ditches, excavate, complete grading for all city projects, load and move equipment for other departments/divisions, maintain rural and state route shoulder work for DOT, and support all other City projects.
In Detail:
We respond to all self-generated work orders as well as those called in to the 311 center for repairs and maintenance as it relates to asphalt, concrete, rock/gravel, and hazards.
We provide the re-grading of ditches, removal of silt from ditches, silt ponds, retention ponds, and the laying of large pipes.
We perform maintenance on designated private unpaved roads for use by emergency vehicles, postal vehicles, and school buses.
We're responsible for the excavating and grading of all new and special projects within the city.
We perform maintenance on the shoulders of all city and state roads. We provide equipment to load material for all departments of the city from the dirt stockpile.
We support emergency management on fires, hazardous spills, storms, and demolishing buildings on city property.
We support all inert and sanitary landfills with dirt and equipment on covering as needed and for fires in emergencies.
We support the Cemetery Division, Building Maintenance Division, Engineering Department, and all divisions and departments within the city with Special Projects.
You can report problems online through the City's 311 Request for Service portal. Completed forms are automatically assigned to the appropriate personnel.
Potholes, Asphalt Maintenance, Asphalt Apron, Curb/Gutters, Graffiti, Edge Ruts, or Street Hazards - can be reported online using the City's 311 Request for Service portal or may be called in by dialing 706-653-4000 or found by supervisors, crew leaders, and assigned personnel with the Streets Division.