Recycling Program
Recycling in Columbus is easy and convenient
Our curbside program has been designed for customer convenience and simplicity. Just place your recyclables in your blue cart and put it out at the curbside on your collection day.
Recycling Center Location Maps
Googlemaps »»
Columbus GA Recycles App
Download the Columbus GA Recycles app from the Apple App Store or Google Play Store. Entering your address in the app will display the upcoming collection dates for recycling, garbage, yard waste, and bulky waste.
Have a question concerning whether or not an item is recyclable? This app can assist! Simply type the name of the item and the app will tell you in which waste category the item belongs.
Here is how it works -
First call the Citizens Service Center at 706.653.4000 to order a blue cart which will be delivered to your home with instructions at no cost to the customer. Collection is once a week on one of your garbage days. Please refer to the Collection Days page for your recycling day.
Recycling History in Columbus -
In late 1992, the City of Columbus introduced the Recycling Pilot Program. It consisted of four areas with 1,000 homes in each area. The initial purpose of this program was to gather information and determine the best collection method, what material to recycle, what the collection days would be for the different areas and what type container to use for collection.
One year later, thirteen new subdivisions were added to the Pilot Program, as well as a voluntary recycling program outside of the Pilot Program area. With such success, in 1994, the City of Columbus implemented its voluntary city wide recycling program.
In 2013, The new Recycling and Sustainability Center, located at 8001 Pine Grove Way, Columbus Ga 31907 opened. This new Single Stream recycling facility features a LEED certified building, an educational center, and a large capacity production center. There are free tours to the general public, schools and groups of interested people.
Things We Gladly Accept
Plastic #1 through #7 (no plastic bags or plastic straws; items should be rinsed and clean)
Cardboard (please flatten)
Paper - all types including Envelopes, Magazines, Junk Mail, etc.
Aluminum Cans and foil (items should be rinsed and clean)
Steel Cans (items should be rinsed and clean)
Please contact the citizens service center if you are not sure at 706-653-4000
A Few Things Cannot Accept
(These items can be properly disposed of for a fee at the Pine Grove Landfill.)
Plastic Bags: Please visit the following link to find a drop off point in your area: http://abagslife.com/georgia/
Items that can tangle (Christmas lights, hoses, cords, or chains)
Medical Needles or Syringes
All batteries including Lithium Ion Batteries: Please visit the following link to find a lithium ion drop off point in your area: https://www.call2recycle.org/locator/
Styrofoam
Plastic Toys
Car Parts
Recycling a Vehicle: Google "donate my car", "recycle my car", or "salvage yards" in Columbus GA. Some businesses will take old boats, tractors, etc. Some may pay cash for your vehicle, or give you a tax deduction for donating your unneeded vehicle. There are also programs to donate your unneeded vehicle to veterans, families in need, charities, etc. available online.
Tires
Wax Coated Containers
No Glass
Please contact the citizens service center if you are not sure at 706-653-4000
Wrapping paper
Helping Us to Help You
Do your part to help the environment and help us save the landfill space!

Benefits of recycling:
Reduced litter
Cleaner neighborhoods, playgrounds and retail establishments
Conserves natural resources such as timber, water, and minerals
Saves energy
Reduces greenhouse gas emissions that contribute to global climate change
Prevents Pollution
Mobile Recycling Sites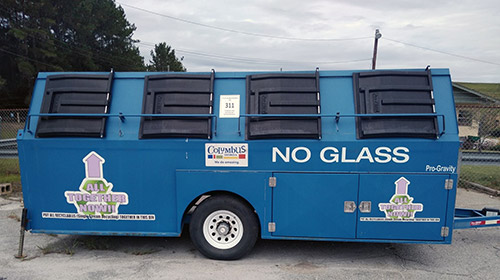 Recycle Drop Off Trailer Locations

Georgia Welcome Center
1751 Williams Road
Columbus, GA 31904

Cooper Creek Park
4816 Milgen Road
Columbus, GA 31907

Recycling Center
8001 Pine Grove Way
Columbus, GA 31907

Victory Drive Site
#25, 22nd Ave.
(Across from Carl Gregory, behind the Summit)
Columbus, GA 31901
Drop off trailer locations map
Those who recycle help protect the health and wellbeing of people and the environment, and help support growth in our state's green economy with more jobs. As natural resources become scarcer and manufacturing costs rise, recycling is more important than ever. That is why we are asking you to support: Columbus Recycles !!