Purchasing Division
(706) 225-4087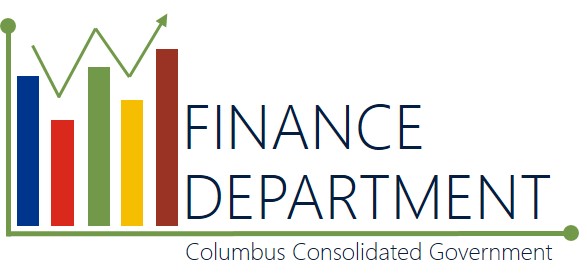 Government Center
5th Floor
100 10th Street
Columbus, GA 31901
FAX:(706) 225-3033 Googlemaps
Mission Statement
To provide professional procurement service, guidance and assistance to City departments in obtaining goods and services. To exercise ethical practices and fair competition in our dealings with vendors in areas of procurement. To continue to strive for the most economic, innovative, and expeditious methods to achieve the City's purchasing requirements through research and staff development.
Division Profile
The Purchasing Division of the Department of Finance is responsible for securing all supplies, tools, equipment and services required for City operations consistent with the procurement ordinance. In addition, the division is responsible for the protection, preservation, proper storage and disposal of surplus materials and equipment. The Purchasing division acts as a liaison between the vendor and the City's various departments.
Purchasing Management
The Purchasing Manager reports directly to the Director of Finance, thus ensuring procurement techniques and strategies are consistent with stated management plans and directives of city officials and the director's office.
Surplus Equipment
The City utilizes public live auctions and online auctions to dispose of surplus equipment. A live auction is normally held, during the fall season of the year. The date, location and other details of the live auction will be advertised on the City's website at the appropriate time. Additionally, on occasion, Govdeals.com is utilized to sell City assets deemed surplus, to the highest bidder, via online public auction. Anyone can register to bid on these items. VIEW ANY CURRENT AUCTIONS for CCG Surplus »»

Disadvantaged Business Enterprises

Thank you for your interest in becoming certified as a Disadvantaged Business Enterprise (DBE) for Columbus Consolidated Government (CCG). CCG is committed to using DBEs to the fullest extent possible in all Federal Transit Administration (FTA) assisted procurement contracts, construction projects, as well as, the day-to-day procurement needs of the city.

In accordance with the Code of Federal Regulations, title 49 subtitle A, part 23 and part 26 and as approved by Resolution Number 373-99 and Resolution Number 209-13 of Columbus Council, the City is a participant of the statewide Unified Certification Program. As part of this program, the Georgia Department of Transportation (GDOT) is the certifying agency for Columbus Consolidated Government.

»» For more information and frequently asked questions (FAQ), click here.

Follow this link to the State of Georgia to apply for certification as a Disadvantaged Business Enterprise: http://www.dot.ga.gov/PS/Business/DBE



Vendor Registration

Thank you for your interest in becoming a vendor for the Consolidated Government of Columbus (CCG), Georgia. CCG utilizes The Georgia Procurement Registry as a means of distributing notices of bidding opportunities to prospective vendors. Suppliers interested in receiving email notification for bidding opportunities listed on this site, should register as a supplier with the Georgia Department of Administrative Services.

Please use the following link to register: http://doas.ga.gov/state-purchasing/suppliers/getting-started-as-a-supplier

Vendors can also use the following resources to inform themselves of Bid and Request for Proposal (RFP) opportunities.
Legal Advertisements: Solicitations will be advertised in the Columbus Ledger-Enquirer (The City's legal organ) on the following specific days: Wednesdays and Fridays. Solicitations will be advertised in the Columbus Times newspaper and the Courier Eco Latino newspaper, as available, on a respective weekly and bi-weekly basis.
City's Website: Solicitations are advertised on the city's website. Full specifications will be published on the Internet, whenever possible at www.columbusga.org/finance/purchasing/docs/Opportunities/Bid_Opportunities.htm
24 Hour Telephonic Bidline: A 24 hour telephone BidLine (telephone line dedicated to announce advertised solicitations) will be available to inform bidders of bid opportunities. The BidLine number is (706) 225-4536. The BidLine recording is updated each Friday. Vendors will be able to call at any time to find out about bid opportunities. Advertised solicitations will be announced on the BidLine until their due date.
CCG-TV: Bid advertisements will be publicized on the City's TV Station CCG-TV

Spectrum cable - Channel 80
WOW cable- Channel 3
MediaCom cable- Channel 156