District Attorney for Chattahoochee Judicial Circuit
Serving: Chattahoochee, Harris, Marion, Muscogee, Talbot, and Taylor Counties
100 10th Street, Government Center - 3rd Floor
Phone: 706.653.4336

District Attorney: Julia Slater
jslater@columbusga.org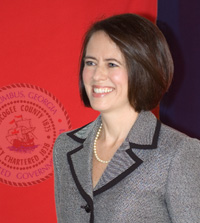 Our criminal justice system should do more than provide justice to criminals. It should also provide justice to innocent crime victims.

Historically, our criminal justice system has concentrated on protecting and promoting the right of the accused while ignoring the rights of crime victims and witnesses.

If you are a victim of a crime, or a witness to a crime, your cooperation is vital to the prosecution of the case. We understand that you may not be familiar with the criminal justice process. We also understand that the criminal justice system might seem quite confusing and frustrating. Therefore to provide assistance to you, we have established a Victim-Witness Assistance Program in our office. Staff members are available to answer your questions and to help provide support during your involvement in the criminal justice process.

The District Attorney's Office is required by law to provide the defense attorney with names, addresses, and telephone numbers of witnesses for the state. When defense attorney contacts you, you have the right to choose whether or not you will speak with the defense attorney. You also have the right to have someone from the District Attorney's Office or your personal attorney present during the interview.




© 2009 Columbus, Georgia
Government Center, 100 10th Street, Columbus, GA, 31901
E-mail the Webmaster