Solicitor General
100 10th Street, Government Center - Tower, 9th Floor
Phone: 706.653.4327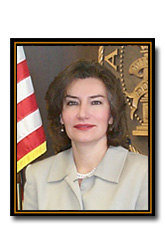 The Office of the Solicitor General is committed to conducting a thorough, fair, vigorous, and just prosecution of all criminal misdemeanor cases bound over from Recorder's and Municipal courts in Muscogee County. To achieve this mission we will accurately compile cases in a timely manner, investigate all cases, and vigorously prosecute all valid misdemeanor cases under our jurisdiction.
Suzanne Goddard
Solicitor General
Sentence Guidelines for Misdemeanors
General Misdemeanors are punishable for up to 12 months in jail and/or up to $1,000 fine and/or community service.

High and Aggravated Misdemeanors are punishable for up to 12 months in jail and/or fines up to $5,000 and/or community service.
Some misdemeanor offenses have minimum community service requirements as determined by the Official Code of Georgia Annotated. Furthermore, a defendant may be placed on supervised probation to complete the terms of his/her sentence.
Rules of Court
The Office of the Solicitor General is governed by the following entities and treaties:
Domestic Violence is a Crime...

If you or someone you know is being abused and it is not safe at home or in the relationship, there is help!

---

Domestic Violence Round-table Georgia-
(800)334-2836

Alabama-

(800)650-6522
Immediate Danger
911
Columbus Alliance for Battered Women
(706)324-3850
Russell Co. Crisis Center
(334)297-4401
Columbus Police Department
(706)653-3000
Sheriff's Department
(706)653-4225
Columbus Rape Crisis
(706)571-6010
RAINN-Rape Abuse & Incest Natl. Ntwk.
(800)656-4673
Department of Family and Children Services
(706)649-7311
Solicitor General's Office
(706)653-4327
District Attorney's Office
(706)653-4336
Georgia Legal Services
(706)649-7493
or
(800)533-3140
Pastoral Institute
(706)649-6500
The Family Center
(706)327-3238
Children's Tree House
(706)327-9612
CASA
(706)323-3687
State Board of Pardons and Paroles
(706)649-1105
Metropolitan Columbus Task Force for the Homeless
(800)341-9371
Fort Benning Family Advocacy
(706)545-7517
Fort Benning Military Police
(706)545-5222
CONTACT (24 hour Helpline)
211

or

(706)327-3999

You Are Not Alone!